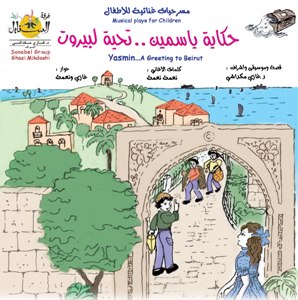 A 46 minute play which includes 8 songs, "Yasmine Story... A Tribute to Beirut" talks of a little girl, Yasmine, who lives with her grandmother and sister Abir in one of Beirut's modest districts. The street is packed with cars and high buildings and deprived of spaces and trees. Yasmine spends her joy hour listening to her grandma's stories that are filled with memories and love.
Her sparetime is spent at her room playing with her friends. Together, they make an old town on a wooden board manifesting what Yasmine's grandma described to them in her stories of days past.
Abir is dreaming of a dress to wear at her upcoming wedding. Yasmine asks her grandma about her own wedding dress and gets told that the dress was put in an old wooden box that was lost when moving to the new tows.
In a moment of magic, Yasmine gets to live in a dream-like world of her own and enters the old town searching for her grandma's home. In a series of magical musical scenes, Yasmine gets introduced to one of Beirut's old markets full of sellers and craftsmen. She asks for directions and follows instructions from one man to another until she discovers where her grandma's home is. Will she find the old wooden box...?